Avaya - Lucent Telephones & Systems

Re: Basic Mode Transfer
hbiss
04/02/20
03:12 AM
It's what used to be included in Centrex service. That feature was the only reason customers had it. We could even program the messaging system to transfer to an off premises number when the caller dials an extension number. Once the transfer is made it uses no resources on the system, the transfer is done by the CO. Caller had no idea they were connected to a phone someplace else.

Sometimes progress takes us backwards.

-Hal
8
102
Comdial Telephones & Systems

Re: Voice problems with Comdial & Spectrum
Carl Navarro
04/01/20
05:56 PM
On the side of your 816 cabinet, you have modular jacks. Probably 4 below the amp connector for lines and 4 or so above for paging, com 1&2, etc. By default, com1 is used to program the box and com2 is for SMDR. The phone system will give you a printout of all calls incoming and outgoing and I remember it's very forgiving if you turn it on and don't connect anything to it.

You might reach out to a Comdial tech and get a cable and use an old PC to capture the call records.

Carl
9
131
General Telephone & Systems Information

Litespan 2000 CUVG Card
tommyb52
04/01/20
05:14 PM
Does anyone know if there are certain copper pair line conditions this Litespan 2000 card can only work on? The newer CEUVG cards have an option for Loaded or Non-Loaded copper pairs but the CUVG doesn't. I know the CEUVG can work a little further from the remote too. Must this card be used on only 1 type of line condition? Been trying to dig up more various PG systems info as VZ is letting the copper plant rot and the only thing left in some areas are older "Pair Gain" systems in the field. Thank you.
0
31
Allworx Telephones & Systems

Register a Polycom Trio 8800 to Allworx
aweaver
03/31/20
06:18 PM
After some messing around, we finally were able to get a Polycom Trio 8800 registered to the Allworx Connect Server.
Make sure to have your SIP ID, User ID and SIP password from the Allworx 3rd party SIP extension.
Log into your Polycom
1) Go to Line 1 > Identification and enter the Display Name of your choice > enter the address as
[email protected]
(e.g. *
[email protected]
) > Set Type to 'Private' > Set Enable SRTP to 'No' > Set Server Auto Discovery to 'No'
2) Go to Line 1 > Authentication and set User Login Credentials to 'Disable' > Set domain to IP address of PBX > Set User ID to User ID set up in Allworx 3rd party SIP handset > Set Password to 3rd party SIP password
3) Go to Line 1 > Outbound proxy and set IP to IP of PBX > Set port to 5060
4) Go to Line 1 > SIP server 1 > Set Special Interop to 'Standard' > Set Address to IP of PBX > Set Port to '5060' > Set transport to 'UDP' > Set Register to "yes'
See screen shot below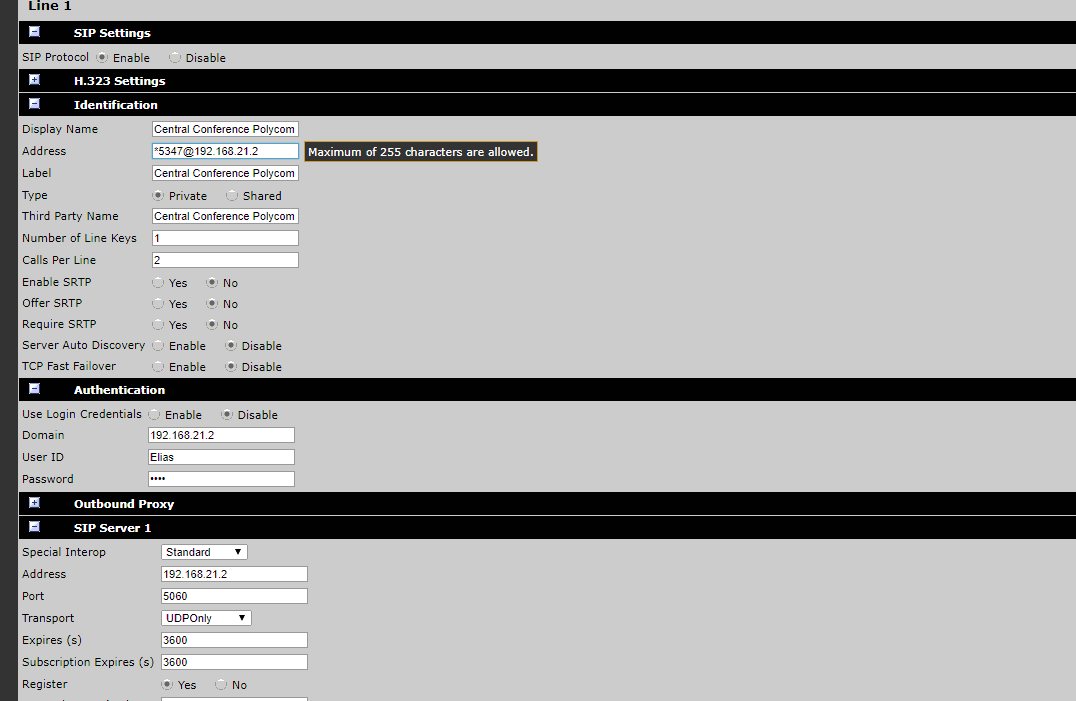 0
41
Phone Booth

Re: Att sales idiots
dans
03/31/20
01:40 PM
May of 2019 one of our customers changed from Windstream to AT&T. I'm not going to give the long version of what AT&T screwed up but the short one.
I was in the office building d-marc location with the AT&T techs, they were on speaker phone with their project manager who was on a conference call with other departments when he yelled out do you have any idea who this guy's brother is?

Well the guy he was talking about, the majority owner and CEO of the company we were working on is the brother of the CFO at AT&T in Dallas.

It took 3 days for them to fix all their screw ups.

How long would it had taken if he wasn't the brother of the CFO?
27
2,363
General Telephone & Systems Information

Re: Interesting call. No ringing voltage
Keyset6
03/30/20
09:10 PM
Reminds me a bit of a service call I did on a Rolm 8000 PBX about 5 years ago, Yes, the customer still had a Rolm 8000, and it was all analog. The VRU wasn't answering, I had the customer call another ext. and have someone answer, audio was good. It sounded like no ring voltage. When onsite I checked the fuses, they were good. Thinking that would be the case, I brought an Elgin 1A2 power supply I had at home that provided 90V ring voltage. I wired that in, it ran like that for a few weeks until I got a replacement power supply (that weighed about 80 lbs).
In the fall of 2015 we finally replaced the 8000, with a Rolm 9751, so now the system was only about 20 years old. To them it was a huge upgrade having digital phones, and we were able to connect the T1 directly to the PBX instead of a channel bank with 6 wires per tieline. The store has recently closed, like many others in the chain.
8
186
NEC Telephones & Systems

Re: Sl2100 call fwd ?
helpifican
03/27/20
01:08 PM
If x101 is forwarded to x102 and 101 is called it will go to 101 mailbox. It always goes to the extension that was initially dialed. You can set x101's mailbox as none. In this case the call will go back to the main greeting after ringing 102.
1
55
Popular Topics

(Views)
Forum Statistics
Most Online
5,661


May 23rd, 2018